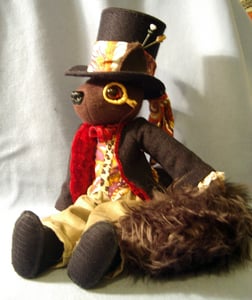 £

15.00
***PRICE QUOTED IS FOR INITIAL DEPOSIT ONLY***
If you have an idea for a soft toy for either an adult or a child, or your son or daughter has created a drawing that you'd like to see realised in plush, then let me turn imagination into reality!
Items can be made in different ways - either 'flat' (and maybe with a squeaker for a baby?) or fully three dimensional with jointed movement for an adult collector.
When you 'buy' this item, you are paying a deposit against your final purchase. I will then email you to discuss your requirements and sketch out my ideas. The deposit is non-refundable on this item, to reflect the work that I have to put into the sketches.
The rest of the cost is payable on acceptance of my sketch(es). Custom prices start at £30 for something like the Owl in the example photos and go up to around £120 for an item as intricate as the Fox.
If you would like to discuss the custom option with me before ordering, I can be contacted at theuglyowl@gmail.com
All custom items are shipped via trackable parcel delivery.