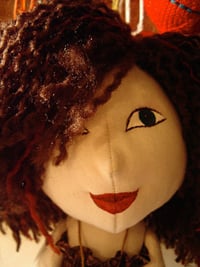 £

15.00
Bespoke dolls are £95 - the initial payment is a deposit and the remainder is payable on your acceptance of my design. The deposit is non-refundable on this item, to reflect the work that I have to put into the sketches.
Fully jointed doll with much more human-like characteristics. Face is hand painted and hair is latch-hooked to give a professional finish. I can work to pictures of a real person if required.

Clothes and accessories are completely adaptable to your requirements. Price includes one full set of clothes (top and trousers/skirt, or a dress, plus removable shoes). Extras such as hats and coats can be handmade for a small charge.
Size varies slightly, but height is usually around the 18" mark.
Bespoke dolls are always shipped via trackable parcel delivery.